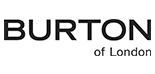 BURTON
Open today
From 10:00 AM to 8:00 PM

01 74 25 77 87
Burton : British style
Burton offers chic and elegant fashion for women and men.
The very first Burton shop opened up over a century ago! Montague Burton launched his brand in 1900 in the town of Chesterfield in England.
Over all these years Burton has managed to preserve its classy style, particularly loved by its demanding clientele with a preference for clothing made from quality materials. The Burton brand is aimed above all at men in search of lasting, traditional, high-end, elegant fashion.
In among the Burton collections men will find stunning duffle coats, cable-knit blazers, merino sheep's wool jumpers, checked shirts, corduroy trousers and real leather ankle boots. There are just so many clothing items in masculine styles featuring perfect finishes to give your outfit maximum character. For women there are smart trousers, turtlenecks in deep colours, polyester parkas, leather boots and all sorts of quality accessories for impeccable style from head to foot.
The brand's strength? The mix of fabrics such as cotton, silk, cashmere, wool, mohair, acrylic, viscose and leather.
Opening Hours
Monday

· From 10:00 AM to 8:00 PM


Tuesday

· From 10:00 AM to 8:00 PM


Wednesday

· From 10:00 AM to 8:00 PM


Thursday

· From 10:00 AM to 8:00 PM


Friday

· From 10:00 AM to 8:00 PM


Saturday

· From 10:00 AM to 8:00 PM


Sunday

· From 10:00 AM to 8:00 PM