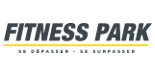 FITNESS PARK
Open today
From 10:00 AM to 8:00 PM

06 46 20 26 49
Fitness Park offers you superb fitness facilities – get in shape with our top-of-the-range professional equipment at affordable prices.
Our Fitness Team is happy to offer advice and help you to find the right fitness program for you, at times that suit your schedule.
Cardio-training, cours collectifs et variés, musculation, coaching... les amateurs de sport vont trouver à coup sûr leur bonheur au Fitness Park d'Aéroville ouvert de 6h à 23h.
Free workout programs :
• Unlimited access to all activities
• Latest top-of-the-range equipment
• Air-conditioned rooms
• Membership card: one-off single payment of €49.
• over 145 group classes every week provided by French fitness experts
• Weight-lifting: 2 rooms with resistance stations
• Cardio training
• Latest generation Sismo 3D area for effortless slimming
• Individual showers free of charge
Fitness Park Aéroville: the place to be for fitness enthusiasts!
Opening Hours
Monday

· From 10:00 AM to 8:00 PM


Tuesday

· From 10:00 AM to 8:00 PM


Wednesday

· From 10:00 AM to 8:00 PM


Thursday

· From 10:00 AM to 8:00 PM


Friday

· From 10:00 AM to 8:00 PM


Saturday

· From 10:00 AM to 8:00 PM


Sunday

· From 10:00 AM to 8:00 PM