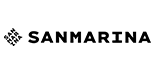 SAN MARINA
Open today
From 10:00 AM to 8:00 PM

01 74 25 78 56
Looking for court shoes, pumps, mocassins, trainers, boots or derby shoes? San Marina will fulfill your every footwear desire!
Looking for some extravagant, classic or children's shoes, or something for the active woman? San Marina offers a complete and varied collection: urban country, fusion folk, 80's structure, rock couture and western. And the men's collection has its own sports line and town line.
This wide range of footwear is complemented by a collection of leather accessories as well as belts. San Marina - for all of life's moments and all your fashion needs.
Opening Hours
Monday

· From 10:00 AM to 8:00 PM


Tuesday

· From 10:00 AM to 8:00 PM


Wednesday

· From 10:00 AM to 8:00 PM


Thursday

· From 10:00 AM to 8:00 PM


Friday

· From 10:00 AM to 8:00 PM


Saturday

· From 10:00 AM to 8:00 PM


Sunday

· From 10:00 AM to 8:00 PM