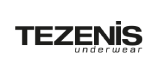 TEZENIS
Open today
From 10:00 AM to 8:00 PM

0182320044
Since 1986, the Italian group Calzedonia is based on 3 pillars: varied products, collections in time and an unbeatable value for money. The third mark of the group is no exception to the rule !
Among more than 600 points of sale around the world, Tezenis already had a first French boutique in Lyon since May 2018. The brand continues to expand in France, starting with the Aéroville Mall.
Since its launch in 2003, Tezenis has seduced young people around the world with trendy urban and pop collections. The brand offers a wide range of lingerie, swimwear, tights, socks and home wear. Fun, stylish and always evolving, they are Fashion or Basic, the collections offer every week their lot of novelties.
Tezenis is aimed at women but also men with always the same motto:
trend to affordable prices
Opening Hours
Monday

· From 10:00 AM to 8:00 PM


Tuesday

· From 10:00 AM to 8:00 PM


Wednesday

· From 10:00 AM to 8:00 PM


Thursday

· From 10:00 AM to 8:00 PM


Friday

· From 10:00 AM to 8:00 PM


Saturday

· From 10:00 AM to 8:00 PM


Sunday

· From 10:00 AM to 8:00 PM