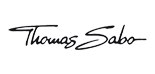 THOMAS SABO
Open today
From 10:00 AM to 8:00 PM

01 74 25 74 66
Thomas Sabo : Jewellery with a unique style
The international jewellery, watches, accessories and beauty lifestyle brand Thomas Sabo was created by self-made man and jewellery enthusiast Thomas Sabo in 1984.

To celebrate 30 years this year, Thomas Sabo has launched the Karma Beads line!

This new line is an expression of positive energy and has been inspired by a positive attitude towards life and a celebration of the good things in life. The key piece in this collection is the "Karma Wheel" to which 72 "Karma Beads" can be added to create a fully personalised piece of jewellery through which you can express your own Karma.

This line is compatible with all other Thomas Sabo product lines, so you can choose your favourite pieces to add to your collection.
Opening Hours
Monday

· From 10:00 AM to 8:00 PM


Tuesday

· From 10:00 AM to 8:00 PM


Wednesday

· From 10:00 AM to 8:00 PM


Thursday

· From 10:00 AM to 8:00 PM


Friday

· From 10:00 AM to 8:00 PM


Saturday

· From 10:00 AM to 8:00 PM


Sunday

· From 10:00 AM to 8:00 PM